The Sophos Mobile Control web interface allows you to register your own devices and carry out other tasks without having to contact the IT Help Desk.
Access the Self-Service Portal
1. Go to the Sophos Mobile Control Self-Service Portal.
2. Log in with your Active Directory credentials.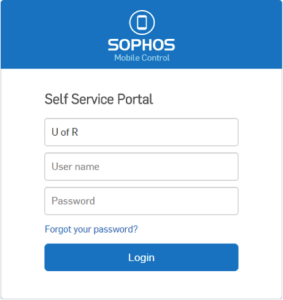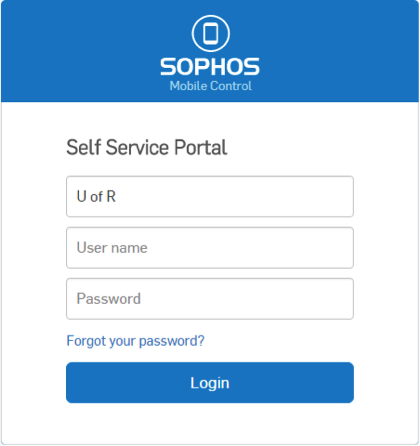 3. After logging in, you will see any devices registered to you on the welcome page.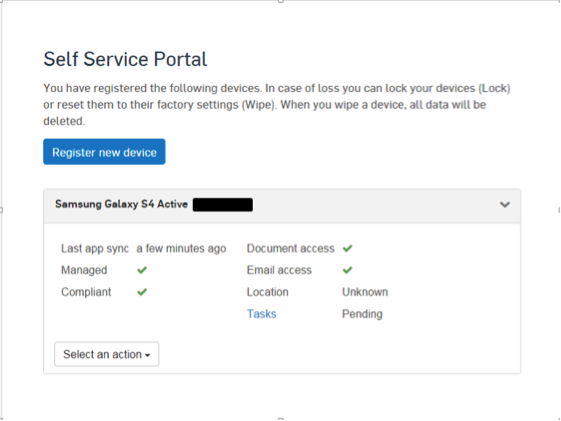 Manage Your Device(s)
The management area is where you can send certain tasks to your phone in case the phone is lost or stolen. This area will also provide certain information about your device and how it's connected with Sophos Mobile Control.
Device name
This will show the registered device and its name
Compliance Information
This area shows some information about the requirements the device has met:

Last time the device contacted the server
Whether the device is being managed by Sophos
If the device is compliant with policies
Whether the device has email access

Tasks
The list of actions that you may run from the Self-Service Portal

Decommission – Disconnect the device from the service
Reconfigure – Should Sophos Mobile Control have been removed from your device and the device is still registered, you can reconfigure your device here
Locate – In case of theft or loss, you can locate your registered device based on GPS location
Lock – In case of theft or loss, you can lock your registered device
Refresh Data – Synchronize the device manually
Reset Password – In case you forget your device PIN, you can reset the password
Wipe – In case of theft or loss, you can reset your device to factory setting