Requirements
Thunderbird version 8.0 or later.
Step 1
Open Thunderbird. A window will pop up asking about Setting Thunderbird as your Default Client. If it is your default email client, click on "Set as Default". If not, click on "Skip Integration"
Step 2
A new window will pop up asking you to configure a new account. Click on "I think I'll configure my account later."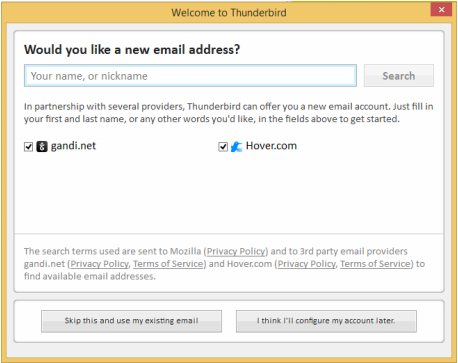 Step 3
Go to Account Settings.
From a Windows PC: right-click on the top of window, select Menu Bar, then to go Tools> Account Settings

From a Mac: go to top of screen, click on Tools > Account Settings.
Step 4
In this window, click on Account Actions > Add Mail Account.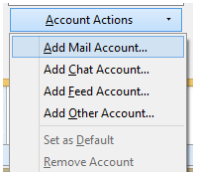 Step 5
In the Mail Account Setup window, please enter the following:
Your name: Enter your full name here.
Email address: Enter your primary email address (i.e. first.last@rochester.edu, username@xx.rochester.edu)
Password: Enter your password associated with your username.
When finished, click Continue.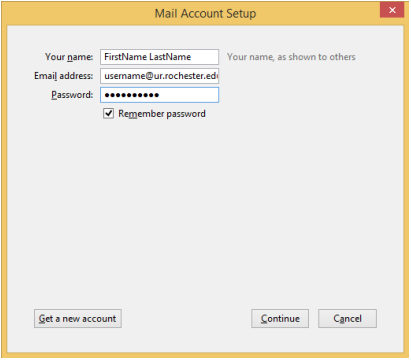 Step 6
Thunderbird will attempt to find the correct settings, but if it cannot, you may receive this message, which is normal.

In this case, please click on the Manual config button and provide the following settings:
Incoming:

Server hostname: outlook.office365.com
Port: Auto
SSL: Autodetect
Authentication: Autodetect

Outgoing:

Server hostname: smtp.office365.com
Port: Auto
SSL: Autodetect
Authentication: Autodetect

Username: Enter your username.

Step 7
Once all settings are entered, click on Re-test. If the settings are correct, you will see the following message:

Step 8
Click Done. Now the mailbox will appear and start to populate.
Step 9
Because the protocol Thunderbird uses to connect to Office 365 is different than clients like Apple Mail and Microsoft Outlook 2011 for Mac, it will use different folders for some of the primary folders. To be consistent, we highly recommend you follow these steps below to minimize confusion if you also use Office 365 web or a different desktop email client.