If you get a new phone, you will need to reactivate in order to use the Duo Mobile app again. Follow the steps below on a computer that is connected to the University network.
Step 1
Go to the appropriate Duo Security Registration Page and log in:
Duo for NetID
Includes HRMS, University VPN, UR Student and UR Financials
Duo for University AD
Includes CLICK IRB, End User Computing and O365-OWA (Webmail)
Duo for URMC AD
Includes URMC VPN, Email and eRecord/ePartner
Step 2
Click on My Settings & Devices.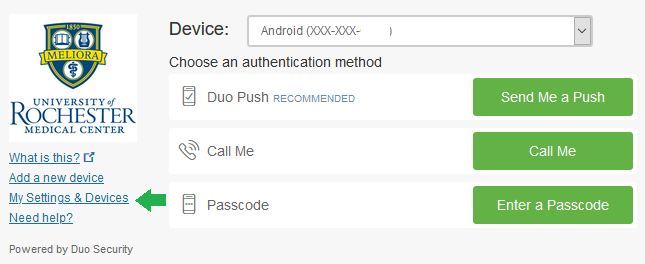 Step 3
Verify your identity.  Since we're reactivating Duo Mobile, Duo Push will not work.  Instead, choose either Call Me or Passcode (which will send you a code via text message).
Step 4
Click Device Options on the phone you are reactivating.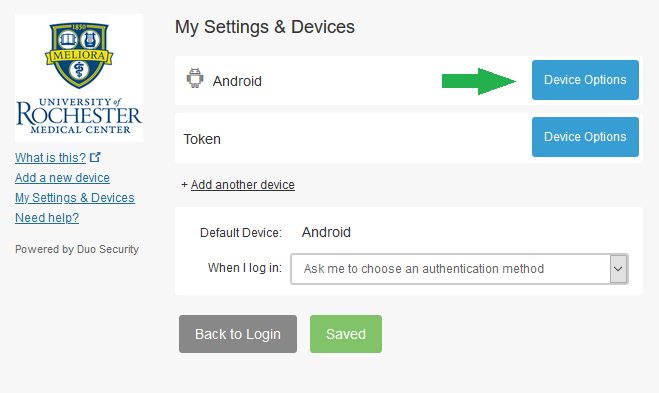 Step 5
Click Reactivate Duo Mobile.

Step 6
Choose a verification method and enter the code provided, click Verify, then click Continue.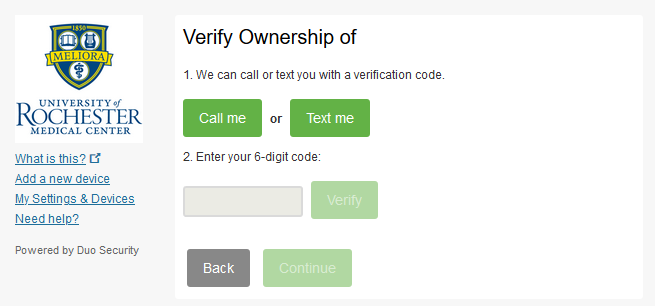 Step 7
Select your phone's operating system, then click Continue.
Step 8
Install the Duo Mobile app on your device if you have not already done so, then click Continue.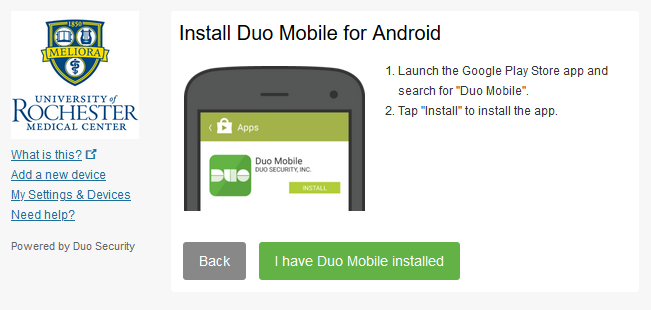 Step 9
On your phone, open the Duo Mobile app.  Click the "+" icon on the top of the screen.  Hold your phone up to the computer and scan the on-screen barcode using the Duo Mobile application's built-in scanner.  After you have scanned the barcode, click Continue.