Syllabi can be created off of a template your department/school uses. This provides easy access to syllabi as well as seamless integration into Blackboard. Syllabi generated in AEFIS are ADA compliant. Current and archived course syllabi can be accessed.
Faculty: Editing your Syllabus
Faculty members can edit the textual components of their syllabus directly in AEFIS by accessing their course section directly. Instructions are available at AEFIS – Edit your Syllabus.
Faculty: Link to Syllabus from your Blackboard Course
Go to your course menu and add a new item. Choose Tool Link.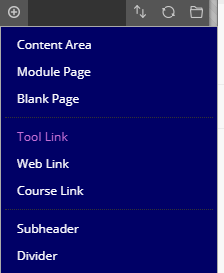 Fill in the link name, choose the "AEFIS Tools" type and click on the "Available to Users" checkbox. Hit Submit.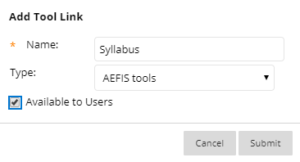 Administrators: Creating a Syllabus Template