Sponsor Responsibility:  As a sponsor of a URMC guest account, you agree that "any device used to connect to the network shall use full-disk encryption and anti-virus software to protect the confidentiality of information on laptops and other mobile devices.
What is encryption?
Encryption is a way of scrambling data so that only authorized parties can understand the information. In technical terms, it is the process of converting human-readable plaintext to incomprehensible text, also known as ciphertext. In simpler terms, encryption takes readable data and alters it so that it appears random. Encryption requires the use of a cryptographic key: a set of mathematical values that both the sender and the recipient of an encrypted message agree on.
Recommended Encryption Products:
The preferred programs are:
How Do I Know If My Guest's PC Has Full Disk Encryption?
Screenshots of Activated Encryption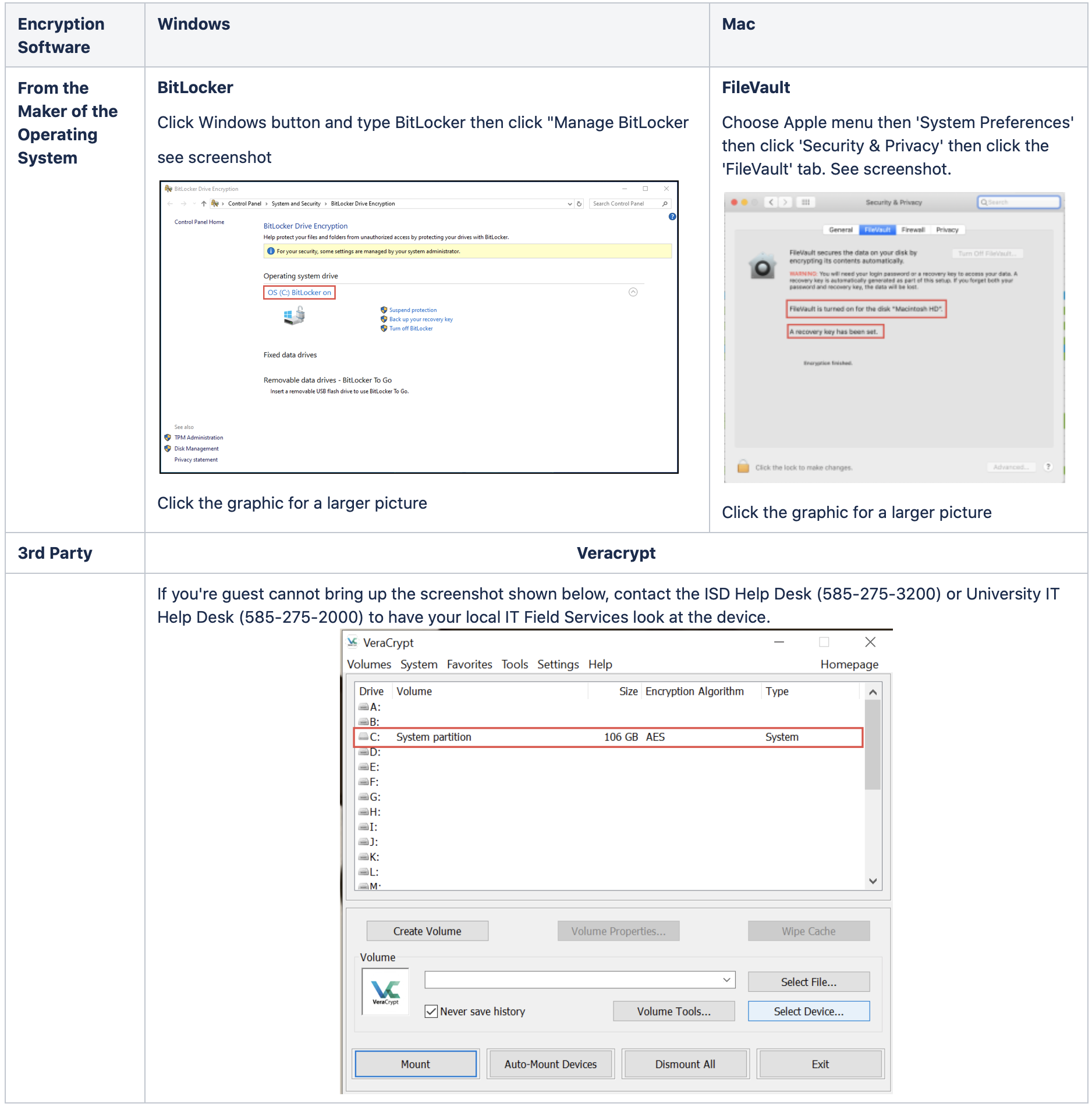 What is Antivirus?
Antivirus is a type of computer program that's designed to seek out and remove computer viruses and other malware that have infected a computer. The best antivirus programs include both automatic and manual scanning capabilities.
The following FREE programs are recommended:
| Program | Windows Compatible | Apple (Mac) Compatible | Additional Information |
| --- | --- | --- | --- |
| Microsoft Defender Antivirus | Only on Windows 10. (Defender is not accepted for Windows 7 as it only protects against spyware) | N/A | Windows Security |
| Microsoft Security Essentials | Only on Windows 7 | N/A | |
| XProtect | N/A | Yes | macOS Security |
| AVG AntiVirus FREE | Yes | Yes | AVG Antivirus FREE |
Your guest should provide you with proof that they have run a current full system disk scan and that the device is clean.
Still Unsure?
If you are still unsure about the security of your guest's device:
Have your IT field services check the guest's device:

If your department does not want to provision a URMC managed device, another option is to contact the ISD Help Desk(585-275-3200) or University IT Help Desk (585-275-2000) and have a ticket created to your local IT Field Services group for them to look over the device to make sure it meets the security standards.

Provision a UR ort URMC managed device:

All UR or URMC and Affiliate provisioned and managed devices are setup with full encryption and antivirus software and meet the IT security policies.
To ensure the device gets the proper security updates, ALL managed devices require FULL VPN access.
Best Practices:   
Only request full VPN access if your guest absolutely requires it

Make sure all portable devices have lock screens  and passwords enabled