The new Duo Security authentication prompt, called Duo Universal Prompt, started rolling out in August, 2023 for all Microsoft 365 (M365) apps and tools and will continue until all applications are on the new, more secure prompt.
No action is required on your part.
What is changing?
The new Duo Universal Prompt will come from a Duo website (duosecurity.com).
The new Duo Universal Prompt will look different:
Duo Universal Prompt
(New Look)

Duo Prompt




(Former Look)
The Remember me for 30 days checkbox will be replaced with a Yes, trust browser option. The result will be the same. Remember do not use this option on a shared computer.
The Universal Prompt remembers your last-used authentication method (e.g., Duo Push, security key, etc.) and displays that option by default. You will not see other available log in methods until you click "Other options."
Once you land on the Universal Prompt, it will automatically send a Duo Push to your device without needing to click a button (if you use Duo Push).
Device Management
You will be able to manage your own devices by going to "Other options" in the Universal Prompt and selecting "Manage devices."
| Step 1: Select "Other Options" | Step 2: Select "Manage Devices" |
| --- | --- |
| OR | |
 After verifying your identity, you will see the device management portal, where you can click Add a device and Duo will guide you through the setup.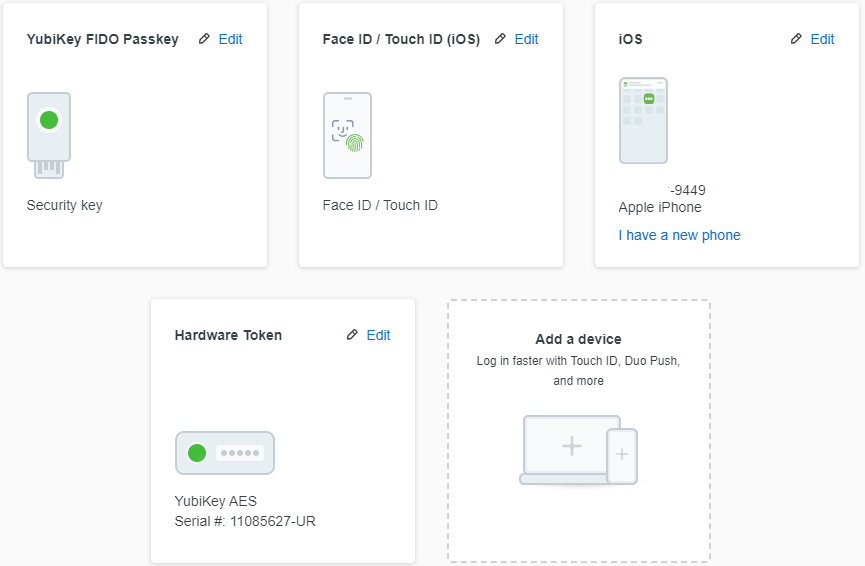 When the Duo Universal Prompt launches, will I need to do anything?
No. If you are enrolled in Duo today, you will not need to re-enroll or change any Duo settings when the new prompt launches. 
Questions?
Please reach out to the Help Desk/Service Desk or submit a ticket with any questions.
University IT Help Desk
URMC ISD Help Desk
You can also find a user's guide to the Universal Prompt at  https://guide.duo.com/universal-prompt.