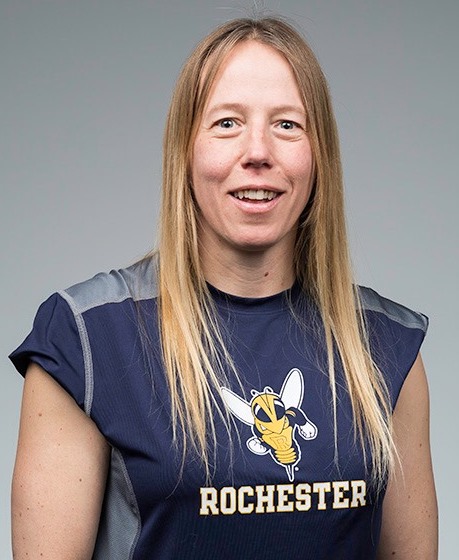 Hillary Lincourt
Senior analyst/programmer with University IT
Hillary Lincourt has a talent for telling stories with numbers. Her creativity in developing data visualizations has provided insight into the information the University collects in its many systems and processes, driving decision making across the institution. Among other accomplishments, Lincourt built a tool that allows the Medical Center's human resources division to efficiently access and sort data to support workforce planning and recruitment initiatives. She has used data to show trends in graduate student enrollment, graduation rates, and other factors that influence support models for graduate students. She has developed visualizations that communicate the trends and results of student enrollments and performance over time, and she has modernized the University's Factbook with Central Institutional Research and University Communications.
"Hillary has not only been able to help a vast number of University constituents understand their data, but she is more an ambassador for how good data—transformed and visualized in the right ways—can help the institution make better, quicker, and more insightful decisions," wrote Julie Meyers, the University's deputy chief information officer, in a letter supporting Lincourt's nomination. "She is helping to transform how the University looks at information." In addition, she educates the people she serves about the visualization tools so that they have a better understanding of the process, according to Jeff Meteyer, manager of reporting and analytics for University IT. Lincourt has also mentored students, faculty, and members of the administration, as well as local high school students, in the use of the data visualization tools and data interpretation.
Those supporting Lincourt's nomination also cite her professionalism and ability to collaborate, as well as her initiative, innovation, and creativity.
"Hillary's personality and professional demeanor have helped set the tone for the group; her activities and support of University IT goals and values; and her passion for diversity and inclusion are evident in her communications with other workers," Meteyer adds.