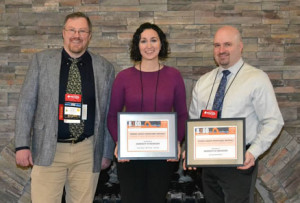 Each year, the Special Interest Group on University and College Computing Services (SIGUCCS) honors the best publications, websites, and promotional materials produced by higher education IT centers. Four IT staff were honored for their work this year, taking home two awards in the international, peer-juried competition. Sara May accepted the awards on the team's behalf from SIGUCCS Board Chair Mat Felthousen '96 (at right) and SIGUCCS Communications Award Chair Trevor Murphy at the annual conference in Salt Lake City, Utah.
Best of Category: General Service Promotional Materials
Tianyi Wang, Will Graver, and Sara May developed a video series to increase awareness of student job opportunities in University IT with current and incoming students. The team recruited current student employees working in different areas of IT to tell classmates about their jobs first-hand.
Best of Category: Student-Created Promotional Materials
Zach Bokuniewicz designed a Halloween-themed information security campaign to educate the University community about how to prevent identity theft as part of National Cybersecurity Awareness Month in October 2013. University of Rochester students tested their information security knowledge to win the t-shirts at the Scare Fair, an annual Halloween event held in Rush Rhees Library. Bokuniewicz was a college intern with the IT Communications Team during Summer 2013.