East High School students visited River Campus on April 26, 2016 to study biology in both virtual and real laboratory settings. Facilitated by the partnership between the Warner School of Education and East High School, the event was part of the biology department's community outreach efforts to foster local high school students' interest in science, technology, engineering, and math (STEM).
The 9th-grade living environment class — taught by alumnus Cebrahil Guler-Carrasquillo '14 — participated in an evolutionary biology lab to study how fruit flies (Drosophila) adapt to cooler climates. David Goldfarb, Ph.D., a biology professor who organized the visit, said the goals were to "fascinate, motivate, empower, and support the teacher's curriculum."
The students started in the VISTA Collaboratory where they went on a virtual specimen-collecting expedition to Iceland, France, and Uganda. Center for Integrated Research Computing staff helped the students navigate the globe using a flight simulator in Google Earth. The curved, high-resolution screen in the lab created such a realistic experience that one student reported feeling airsick during takeoff from the Greater Rochester International Airport.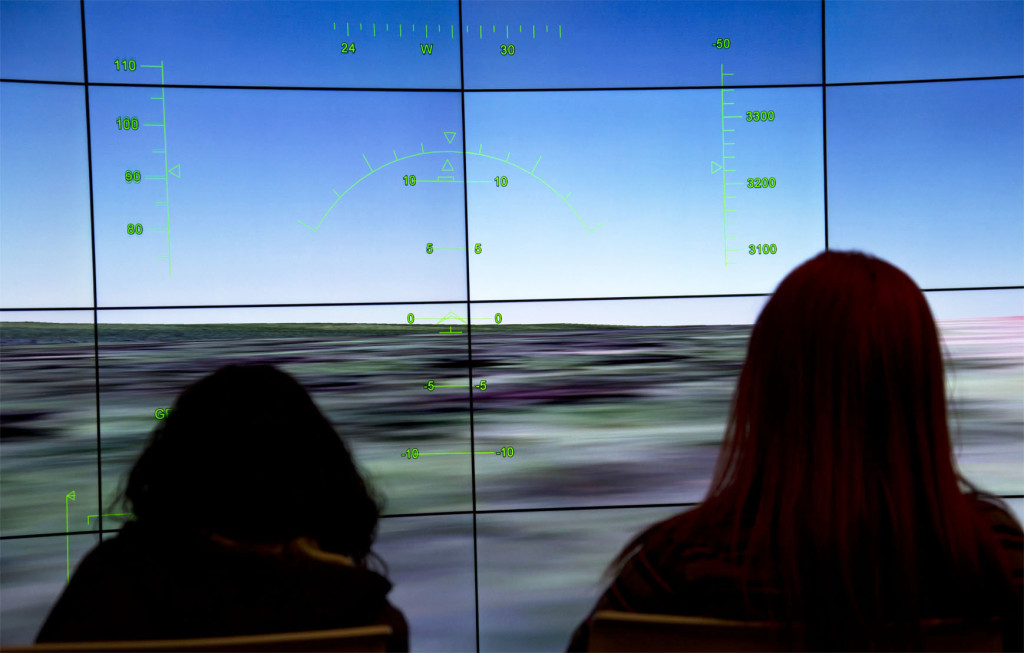 "The simulated experience of traveling the globe, made possible through the VISTA Collaboratory, provided an exciting and engaging way to contextualize their learning," Guler-Carrasquillo said. "They were able to explore the world, feeling the distance between the locations we visit, and actually see the environments that the Drosophila they would work with came from."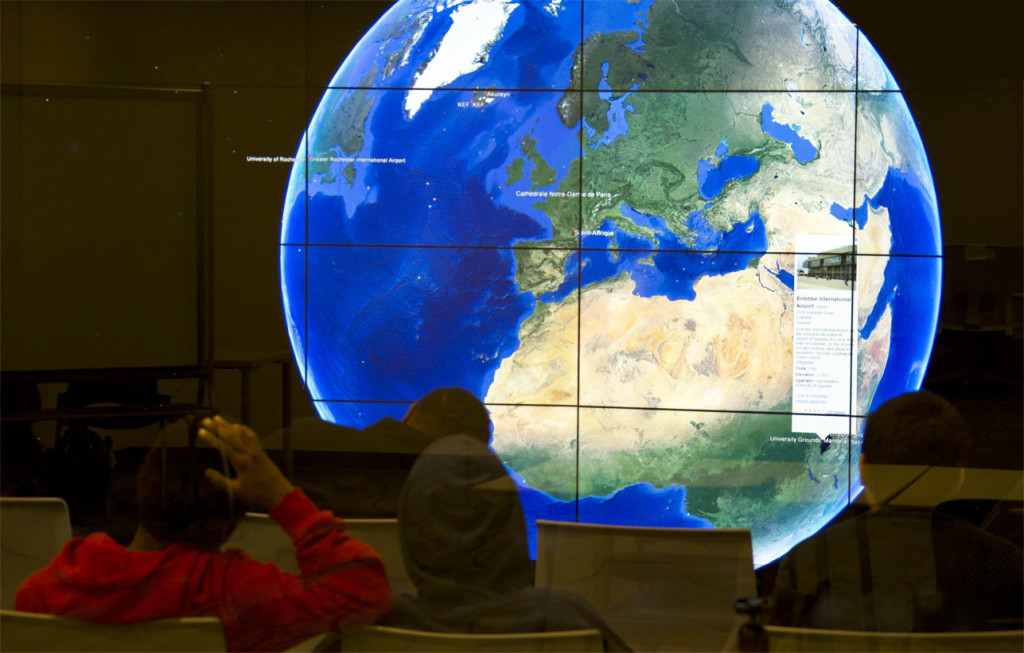 After collecting virtual specimens, the students studied real fly specimens in a Hutchison Hall lab, assisted by faculty and staff from the Department of Biology. They assessed the cold tolerance of six fly species and discovered that flies that had adapted to cooler climates recovered from cold faster than flies from warmer climates.
Guler-Carrasquillo concluded, "Through this experience, my students were able to develop a stronger understanding of how the conditions of an environment impact the organisms that live within."
Following the three-hour lab, the students experienced campus life with lunch at Wilson Commons and a tour led by Meridian Society guides.
"We want to normalize college in the minds of these kids," Goldfarb said. "We want them to develop a sense of belonging on campus. We want them to view University of Rochester faculty, staff, and students as caring and supportive."
The event was made possible by:
David Goldfarb, Ph.D., Professor and Co-Chair of the Community Outreach Committee, Department of Biology
Kristin Kelly, Teaching Lab Manager, Department of Biology
John Jaenike, Ph.D., Professor and Chair of the Department of Biology
Brendan Mort, Ph.D., Director of the Center for Integrated Research Computing
Jonathan Carroll-Nellenback, Ph.D., Computational Scientist, Center for Integrated Research Computing
Bob Minckley, Ph.D., Senior Lecturer, Department of Biology
Georgina Kessie '16, Teaching Assistant, Department of Biology
Michael Occhino, Director of Science Education, Warner School of Education
Meridian Society and Admissions