A familiar icon on your Windows desktop will be changing as the University prepares for Microsoft to retire their long-time web browser, Internet Explorer (IE). Microsoft Edge's blue-green wave icon – already available on computers – will replace the blue "e" icon as University IT rolls out the change to computers over the next two months. You will notice the new icon on your taskbar and in your start menu. If your default browser was Internet Explorer, your links will open in Microsoft Edge instead. If you use Google Chrome, Firefox, or Edge already as your default browser, your experience will not change.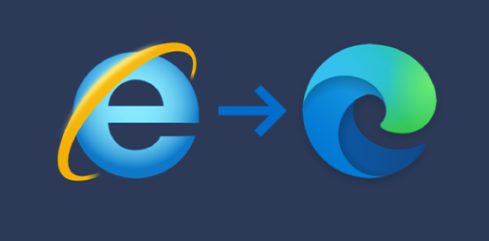 All Internet Explorer applications have been tested and verified to work with Microsoft Edge. (eRecord users will see links opening in Edge.) Bookmarks saved in IE will be copied to Edge and saved under Favorites in an Imported from Internet Explorer folder.
There's information available here If you're interested in migrating your favorites or bookmarks from other browsers to Edge. You can also follow the steps located here to change your default browser from Chrome, or Firefox to Edge.
More information on Edge and its new features can be found on Microsoft's Website.
If you have questions or concerns about this change please contact the University IT Help Desk (585) 275-2000 or ISD (585) 275-3200.