The University will be migrating from its current endpoint protection (Antivirus) software, Cylance to the newly adopted software, CrowdStrike Falcon during the Month of November. University-managed devices will automatically be updated to the new antivirus software.
CrowdStrike Falcon provides advanced defensive capabilities against modern computer and network threats. It replaces traditional signature-based antivirus with a sophisticated set of behavioral models, enabling it to detect advanced and novel threats.
What to expect
For this transition to take place, users will notice a pop-up notification requesting they restart their machine. We simply ask that you follow this prompt as it ensures you will be running the most current endpoint protection on your device.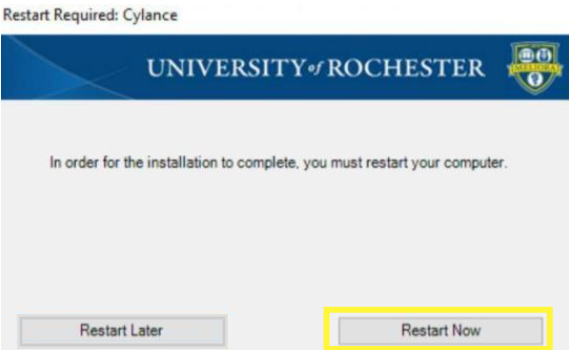 The biggest change is what you won't see. You will no longer see the familiar Cylance shield Icon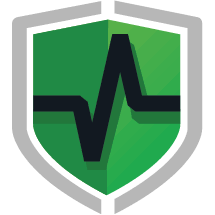 in the taskbar following the migration.  The CrowdStrike software runs silently behind the scenes with no visible icon in the taskbar. Follow the steps below to see if the software is installed on your managed system.
For Windows Users:
Click on the Windows Security Shield icon 
Click on Virus and threat Protection.
You will see CrowdStrike listed.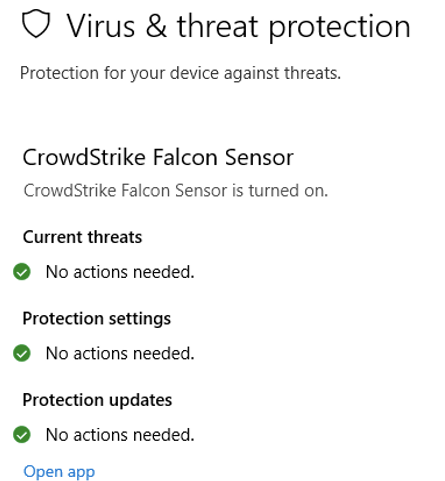 For Mac Users:
Open Applications
Look for the Falcon App

If you do not see the CrowdStrike Falcon app listed, or you have questions or concerns regarding the migration of Cylance to CrowdStrike, please contact:
University IT Help Desk
Phone: (585) 275-2000
Email: UnivITHelp@ rochester.edu
Medical Center IT Help Desk
Phone: (585) 275-3200
Email: helpdesk_ISD@ urmc.rochester.edu