University IT debuted its redesigned website today with the goal to improve the site's usability. The first phase of the redesign focused on enterprise services, such as email and network access, as well as faculty and student services to coincide with the start of the new academic year. Over the coming months, University IT will continue to release additional phases of the website.
The mobile responsive design incorporates a service catalog to help the University community quickly find information on the nearly 100 services University IT provides. You can now navigate services by category, user group, alphabetical list, or a site-specific search of your own keywords.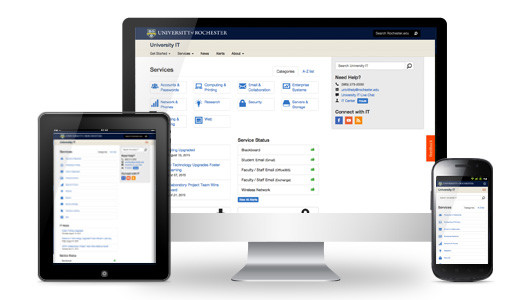 Each service is presented in a consistent format, which provides easy access to tutorials, frequently asked questions, and help contact information. Related services and policies (if any), as well as the types of data that are permitted for storage or transfer on applicable services, are also noted.
To increase awareness of service availability and changes, a news feed and a service status dashboard are prominently featured on the new homepage. The dashboard lets you know at a glance if the most frequently used services — Blackboard, email, and the wireless networks — are experiencing an outage or undergoing maintenance. The alerts (formerly called notices) provide details on the status of these and all other IT services.
You can subscribe to receive IT news or alerts via email on the news website or the alerts page respectively. They are separate subscriptions, so you can opt in to one or both. If you are already subscribed, you will continue to receive emails; no action is needed.
Over the next few months, University IT will continue to transfer the remaining information from the old website and fine-tune the new website's design and features. Webpages in the old website will be decommissioned as their content is moved over into the new website, so the information will not exist in two places. During this transition period, if you cannot find what you're looking for, check the old University IT website or call the IT Help Desk at (585) 275-2000.
University IT welcomes your feedback on the new website.