To continue efforts to reduce phishing and cybersecurity threats, University IT will begin requiring Duo two-factor authentication for Microsoft 365 services.
Over this summer, University IT will roll out this change to University faculty, staff, and students who use Microsoft 365 services (email, Teams, OneDrive, OneNote, etc.). When accessing these services, you will receive a prompt to log in to Duo if you are not connected to the University network. You may not have to authenticate again for up to 30 days. This change will help us all prevent unauthorized access to our accounts and University services.
What To Expect?
Look for an email from the helpdesk notifying you of your department's implementation date.
Some older email clients are not compatible with this new authentication type required.
To see if you'll be affected by this transition, see the table below.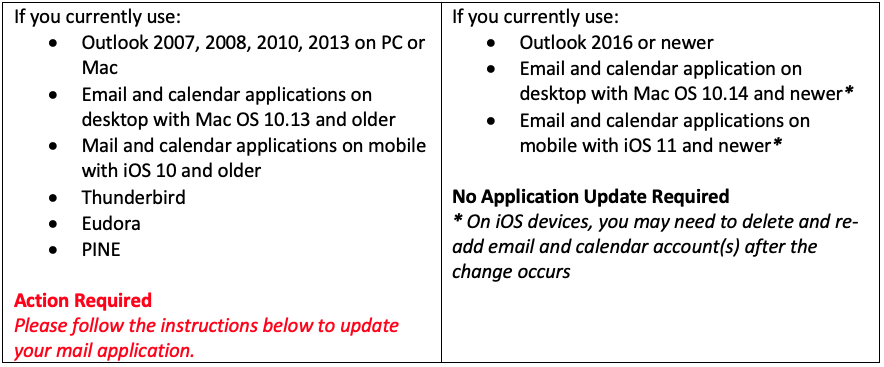 If you have an application where further action is required, follow the instructions below:
Mail Application on a PC or Mac
Mail on a Mobile Device
Mail on the Web
There will be no change.  Continue to use Outlook Web Access (OWA) mail as usual.  Duo will still prompt you when logging in (from outside the UR network).
University OWA: http://owa.ur.rochester.edu/
URMC OWA: https://mail.urmc.rochester.edu/
Need Assistance?
For help with this transition, please use the following contact information:
University IT Help Desk 
585.275.2000
univithelp@rochester.edu
URMC ISD Help Desk
585.275.3200
HelpDesk_ISD@urmc.rochester.edu