In its first year, the Rettner Technology Lending Library has become a valuable resource for the advanced technology needs of Arts, Sciences & Engineering faculty and students. Created by Michael Jarvis, Ph.D., Associate Professor of History and Director of the Digital Media Studies Program, the lending library is located in Rettner 201 — a 24-hour lab space that also houses 3D printers and high-end computers. To date, 61 students have loaned equipment free of charge, and hundreds have used the space for meetings or coursework.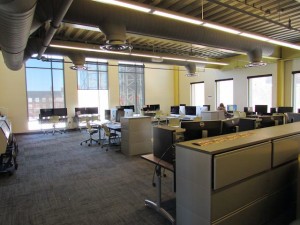 Junior Vito Martino '17 regularly uses the Rettner 201 lab, favoring the open, collaborative atmosphere and around-the-clock access. Martino noted, "I always come here to do my programming assignments because the computers are faster than anywhere else on campus."
Like the specialty computers and printers in the lab, the lending library equipment is, according to ResNet Coordinator Justin Turner, "truly not available anywhere else, especially for those who could never afford to buy it themselves." With everything from drones and thermal cameras to Google Glass and an Oculus Developer Kit, there is a variety of cutting-edge equipment available, with more to come.
"I waited for weeks to get my hands on Google Glass because so many students had signed it out before me," Martino said. "It was awesome once I got to use it."
To provide on-site support for use of the specialized technology in Rettner, University IT opened a satellite Help Desk in Rettner 201 last fall. Student employees staff the desk from noon to midnight daily during the academic year. All 17 students hired as Rettner Help Desk agents were selected from a specialized search process and trained on all the systems, so they bring an extensive knowledge of the multimedia equipment and software available.
"One of the greatest additions has been the Help Desk because the employees are so knowledgeable."
"One of the greatest additions has been the Help Desk because the employees are so knowledgeable," Martino said.
Help Desk Manager Berthenia Coltrane hopes that the student employees can offer training for the University community in the future. They are currently developing tutorial videos for some of the equipment.
Going forward, Jarvis and University IT hope to offer more equipment through the lending library and continue to provide students with the most up-to-date software and computing systems.