The following steps will be carried over into Calendar and Contacts. However, some features that exist in Outlook 2011 and Outlook 2016 for Mac may not be accessible through Apple Mail, Calendar, and Contacts.
Requirements
Apple Mail (OS X 10.9 or later)
One of these supported web browsers:

Chrome (version 18+)
Firefox (version 12+)
Safari (version 5+)
Step 1
Open System Preferences, then select Internet Accounts.
Step 2
Select Exchange.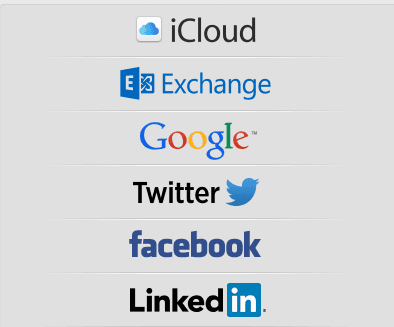 Step 3
Enter your name, primary email address (e.g., first.last@rochester.edu), and password.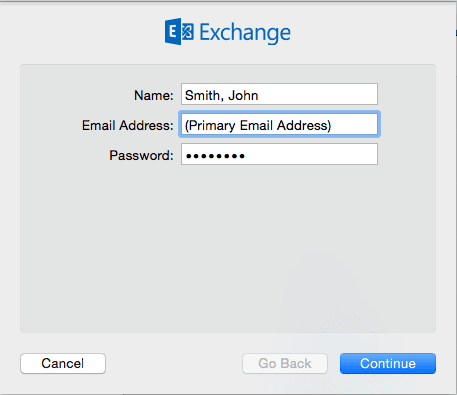 Once finished, click Continue.
You may get this message when configuring. If so, press Continue again.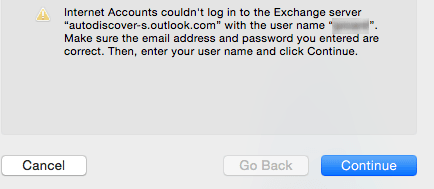 Step 4
If you do not receive a window to input your user name and password, proceed to Step 5.
Enter these Account Settings:
Description: UR
User Name: your username@ur.rochester.edu
Password: your username password
Server Address: outlook.office365.com
Then click Continue.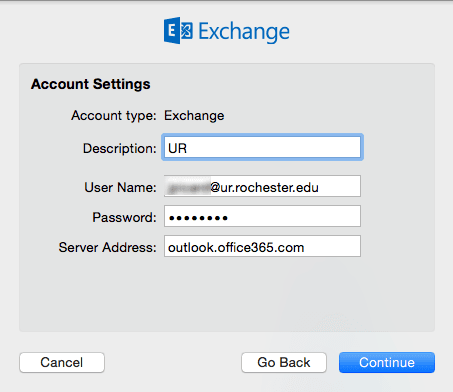 Step 5
From here, you may uncheck any of the apps that you do not want your Office 365 email to integrate with. When finished, press Done.