Step 1
Click on the Add a Contact button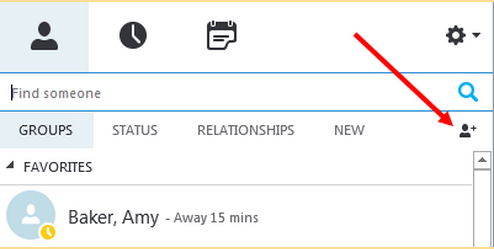 Step 2
If the contact has an account on the University's Skype for Business system, select "Add a Contact in my Organization."
If the contact does not have an account on the University's Skype for Business system, select "Add a Contact Not in My Organization."

Step 3
If the user is part of the University system, you can type their last name in the search bar. Right-click the desired contact and choose Add to Favorites or Add to Contact List.
For an external user, select if they are using Skype for Business or another instant messaging program (Skype is not currently supported). Enter their address/account information and click OK.
Step 4
You have now added the contact and they will remain in your contact list.
Repeat this process for all contacts you want added in Skype.
Note: Skype for Business can display the Office 365 Contact Card information available on a person: right-click their entry, then select See Contact Card.