Connect to VPN: Step 1
Open the Cisco AnyConnect application on your computer.
Go to Applications > Internet > Cisco AnyConnect Secure Mobility Client
Click Cisco AnyConnect Secure Mobility Client to launch the application.
Step 2
Type in vpnconnect.rochester.edu then click Connect.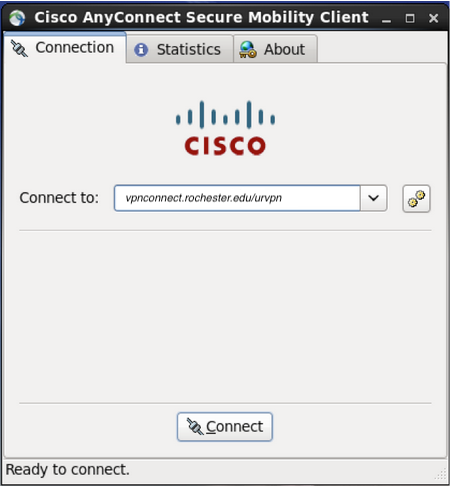 Step 3
Enter your NetID and password. In the Duo Method (or Second Password) field, enter one of the following commands to indicate how you would like to authenticate with Duo two-factor authentication:
push – Receive a push notification in the Duo Mobile app on your smart phone or tablet.
sms – Receive an authentication passcode via text message on your mobile phone. Once you have received the text message, re-enter your NetID and password on the VPN login screen, then enter the passcode in the Second Password field.
phone – Receive a phone call—you must press a key to verify you received the call.
alternate device – Add a number to the end of the command you enter in the Duo Method field (e.g. push2, phone3)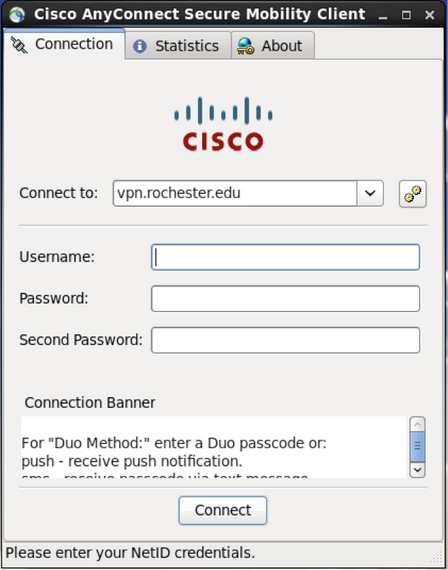 Step 4
Click Connect, then authenticate through Duo on your device.
When you are connected, you will see VPN in your system tray.

Disconnect from VPN
Click the Cisco AnyConnect VPN Client in your system tray.

Click Disconnect.