Faculty, staff, and students in the following departments can download the latest version of Microsoft Office free of charge as part of the Microsoft Campus Agreement:
Arts, Sciences & Engineering
Eastman School of Music
River Campus Libraries
Simon School of Business
University IT and CIRC
Warner School of Education
You can install Microsoft Office on up to five devices, either University owned or personally owned.
Note: Students leaving University of Rochester (by graduating or otherwise) and faculty and staff leaving University of Rochester (by retiring or otherwise) will need to purchase Office to continue using it. You will be prompted by Microsoft to purchase Office the next time you launch the software. If you don't purchase Office, you will still be able to open the documents you created but won't be able to edit them or create new documents.
Before installing or upgrading Microsoft Office on a University-owned device, contact your local IT support specialist.
Office 2016 can be installed on Windows 7, 8.1, or 10.
Office 2016 for Mac can be installed on Mac OS 10.10 (Yosemite) or higher.
Office 2011 for Mac can be installed on Mac OS 10.8 (Mountain Lion) or 10.9 (Mavericks).
Step 1
Open a web browser and go to https://portal.office.com/OLS/MySoftware.aspx
Step 2
In the "Email, phone, or Skype" field, enter your username@ur.rochester.edu and click "Next". This will re-direct you to the University's Office 365 login page.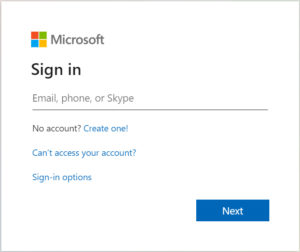 Step 3
Enter your Active Directory username@UR.Rochester.edu and password.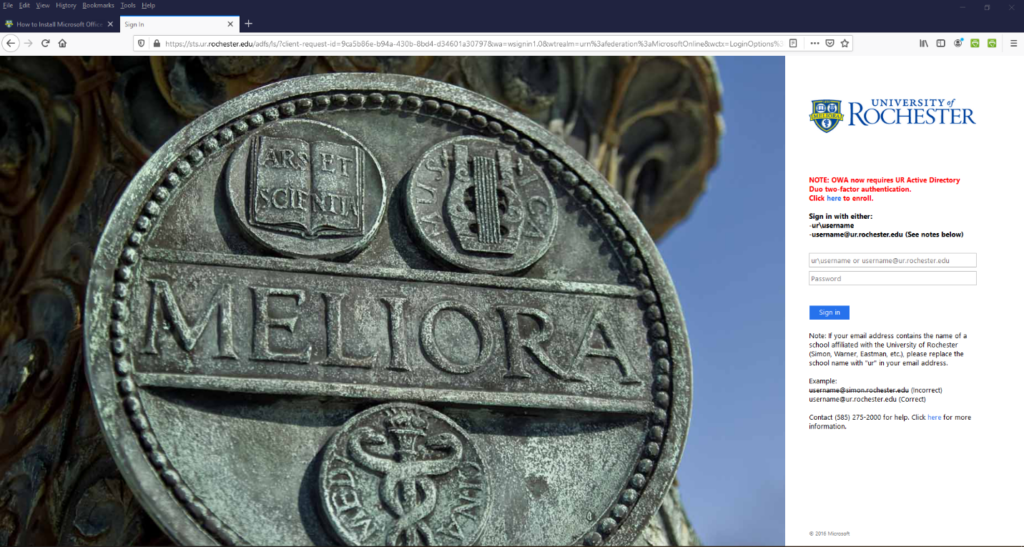 Step 4
In the Apps & devices tab, click Install Office.
Windows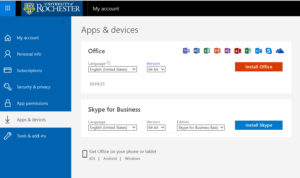 Mac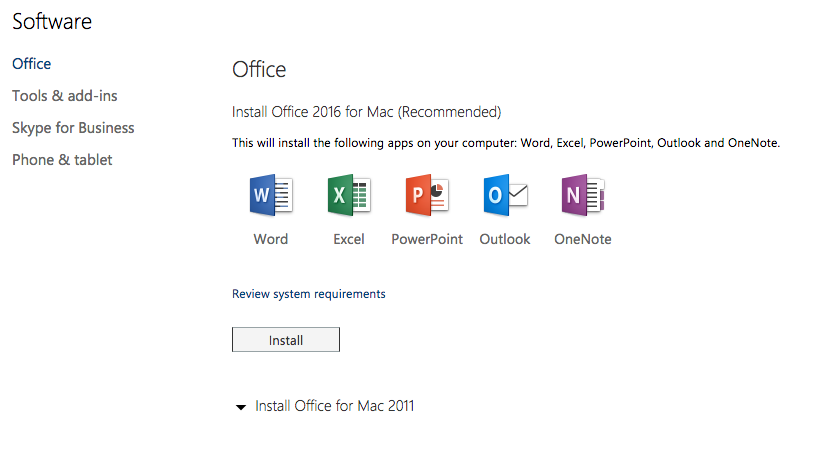 With Office 2011 for Mac, you may encounter a "Getting Started" window with three options. Choose "Sign in to an existing Office 365 subscription" and input your username@ur.rochester.edu and password when prompted.
Step 5
The software will be downloaded on your computer. Double-click on the download to open it and follow the directions below to install it.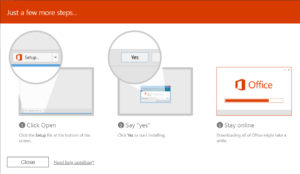 Your copy of Microsoft Office remains active until you leave the University, at which point, you will either need to uninstall it or purchase a license key.
Any computer with Office 365 ProPlus installed on it must connect to the Internet at least once every 30 days so the status of your subscription can be verified. If you do not connect to the Internet every 30 days or less, Office 365 will go into reduced functionality mode. Once the computer reconnects to the Internet and the subscription status is verified, all features will become available again.