NOTE: Administrator privileges are required to install the Cisco AnyConnect client. If you do not have administrator access to install software on your computer, contact the IT Help Desk at (585) 275-2000 or your local IT administrator for assistance.
Step 1
Before connecting to VPN, remove your previous UR VPN connections (profiles) in other VPN applications or your computer's built-in VPN client. If you previously used another VPN client to connect to the University network and do not use it to connect to other non-UR networks, uninstall it from your computer.
Step 2
Enroll in Duo two-factor authentication, which is required for VPN access. If you have already enrolled in Duo, skip to step 3.
Enrollment tutorials and more information about Duo are available on the Duo website.
Step 3
Go to the VPN login page.
Step 4
Enter your University Active Directory (UR AD) ID and password. In the Duo Method box, enter one of the following commands to indicate how you would like to authenticate:
push – Receive a push notification in the Duo Mobile app on your smartphone or tablet.
sms – Receive an authentication passcode via text message on your mobile phone. Once you have received the text message, re-enter your Active Directory (AD) ID and password on the VPN login screen, then enter the passcode in the Second Password field.
phone – Receive a phone call—you must press a key to verify you received the call.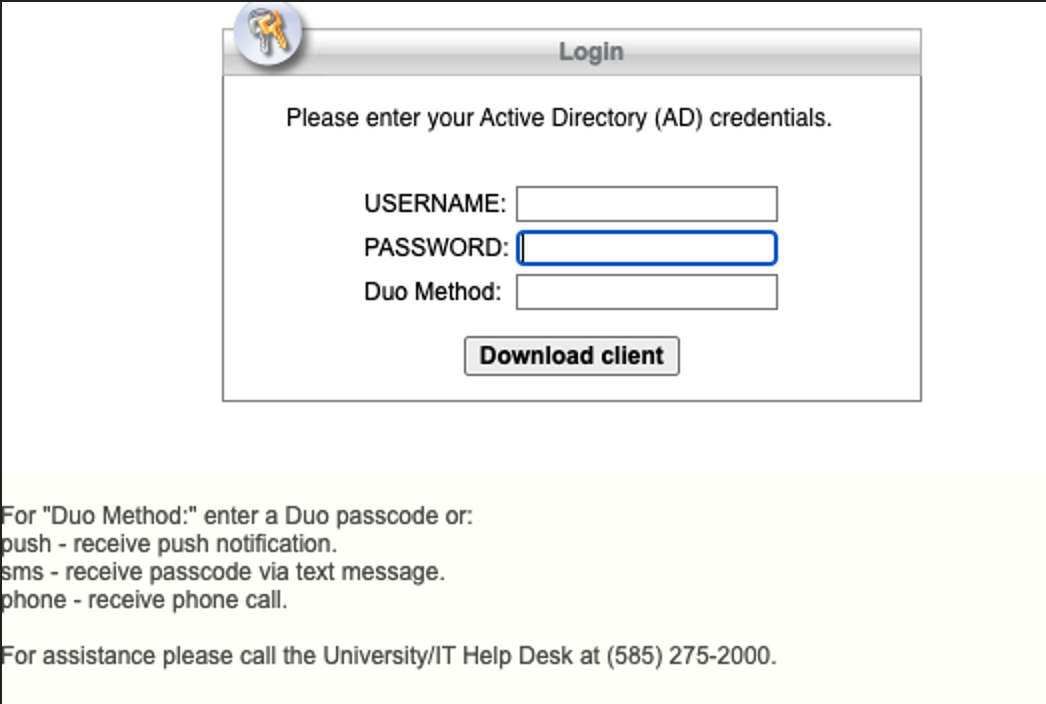 Step 5
Click the Manual installation link to download the installer.
Step 6
As a superuser, run the installer script from your download directory (e.g., sudo sh vpnsetup.sh)

Step 7
If you are asked to allow Cisco AnyConnect to access your computer, click Allow.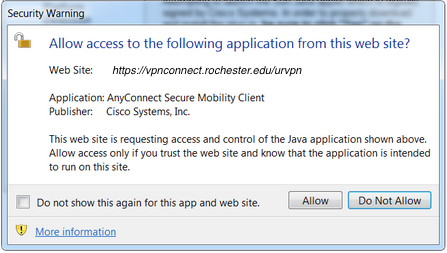 Step 8
The installation will begin, and Cisco AnyConnect will be installed on your computer.
The application can be found under Applications > Internet > Cisco AnyConnect Secure Mobility Client > Cisco AnyConnect Secure Mobility Client

How to Connect or Disconnect
Follow this tutorial to Connect/Disconnect VPN on Linux.