While UR Box features significant storage capability, Box limits individual file upload size to 50 GB. Box recommends using a file transfer protocol (FTP) tool to upload large-sized files or large quantities of files. The steps below describe how to set up an FTP Client on your computer.
Step 1
FTP does not support your Single Sign On credentials. You will need to create a Box specific password to supplement your SSO login. You can do so by visiting the settings options and selecting Create External Password. This password can be used for external applications that do not support SSO.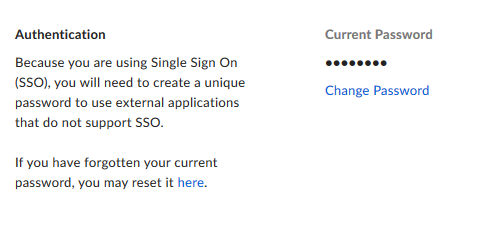 Step 2
Dowload the FileZilla client for your specific operating system and install it on your computer.
Step 3
Open the application after it has successfully installed and click "New Site"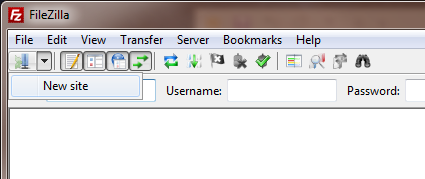 Step 4
Type in the following parameters substituting your account credentials where appropriate:
Host: ftp.box.com
Protocol: FTP – File Transfer Protocol
Encryption: Use explicit FTP over TLS if available
Logon Type: Normal
User: Your UR Box email address
Password: The Personal Password you created in Step 1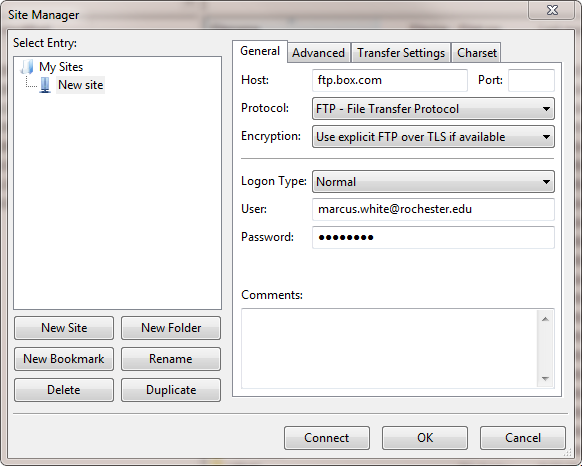 Step 5
Click Connect.
FileZilla will display your account files and folder structure if successful. You are now able to manage files on your UR Box account using FileZilla.
Helpful Reference Material
For more information on managing large files on Box, refer to the
Need Help?
Univ IT Help Desk (585) 275-2000
ISD Help Desk (585) 275-3200
Additional Resources
Contact the IT Help Desk
Submit Service Request
Univ IT Help Desk

ISD Help Desk