This will detail the steps to print a job after you submit a document to print.
Step 1
Once you've submitted documents to print (from a library computer, via email, using the MyPrintCenter upload feature, or native iOS/Android apps), you can go to any printer/copier to release/print the document.
Step 2
Go to any River Campus Pay-for-Print location – see tech.rochester.edu/services/computer-labs/. Locate the nearest print release station. You will see the following display: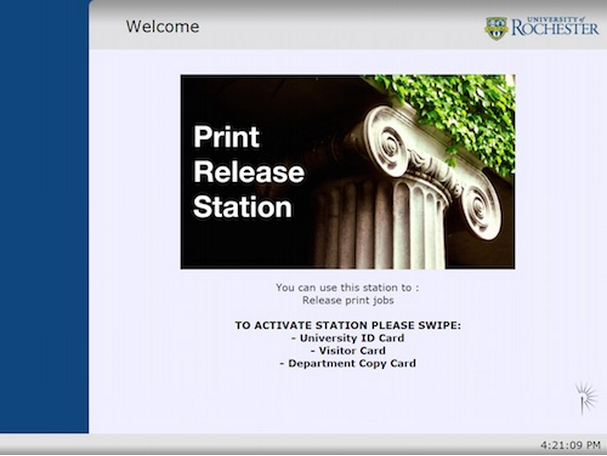 Step 3
Swipe your University ID or Visitor Card in the keyboard card swipe
Select your job from the print queue and select print.
The printer name will appear at the bottom to tell you where to pickup your document
Select Log Off to prevent others from using your Flex or Visitor Card account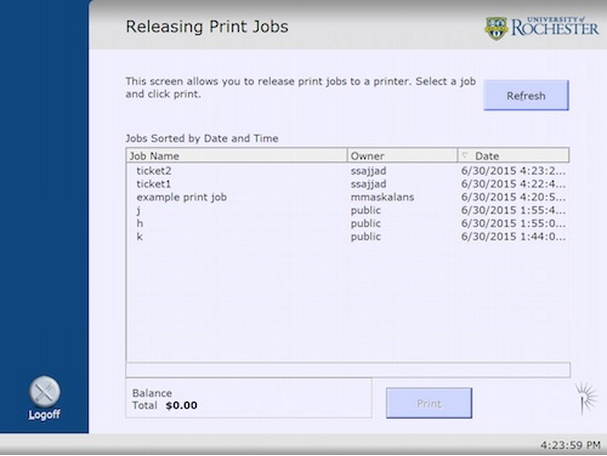 Important Notes
Any unwanted print jobs are automatically deleted from the queue 4 hours after submission
Print Release Stations will automatically log off in 10 seconds if you forget to manually log off.
In the event of a hardware failure, please contact the IT Help Desk at (585) 275-2000, or fill out the Online Service Form.