If you cannot review all the results in one session, you may want to save the results to continue review at a later time. Results can be saved in three different types of files.
Secure Identity Finder Results File
The secure Identity Finder results file is the preferred method for saving results and can be used to save the results for later review and remediation. This is the only results file that can be reopened in Identity Finder.
Click Save from the File menu
Choose a location to save the file
Enter a password to keep the file safe. If you forget the password, you will not be able to view the results without re-running a search.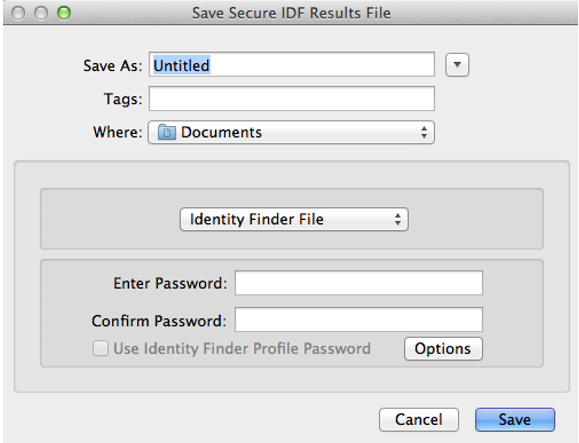 Other Report Types
You can also save the results as a Web Page Report (HTML) or Text (comma separated values) report. These files are not password protected and will not contain the full text of the matches Identity Finder locates – only the file locations and match counts are included. You might want to save the results as one of these files to import the data into Microsoft Excel or to print a report for review with your Departmental Security Liaison.