Step 1
Launch the Skype for Business client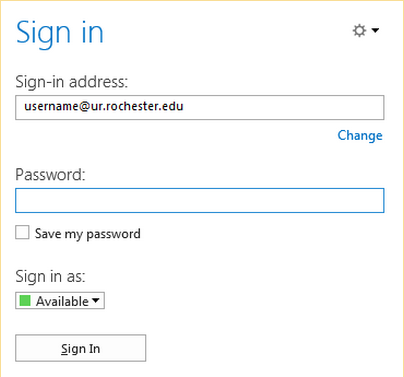 Step 2
The first time you sign in to Skype for Business you will enter your username@ur.rochester.edu email address.
Skype for Business will auto-populate this field the next time you launch it.
Step 3
Enter the password you use for the email address entered in Step 2.
If you would like Skype for Business to save your password, check the "Save my password" box.
Click Sign In.
Start Skype for Business Automatically
If you want Skype for Business to start automatically when you log in to your computer:
Click the gear icon; the Options dialog box will open
In the left column, click Personal
Check Automatically start the app when I log on to Windows
Click OK > Open at Login