If you selected Passcode when you enrolled your mobile phone, SMS text messages from Duo Security will be the default authentication method when you log in to Microsoft 365. Follow the steps below to log in to M365 with two-factor authentication.
Step 1
Go to the Microsoft 365 login page. Enter your Email address and password, then click the Sign In button.
Step 2
Open DUO on your Enrolled Device, select the account and enter the 6 digit Passcode.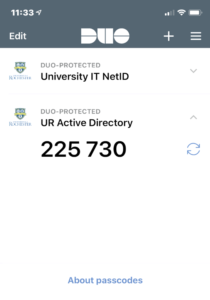 Step 3
Click the Sign In button, and you will be logged in to Microsoft 365.
Login using an alternate device or method
If you would like to log in to Microsoft 365 using an alternate method (push notification or text message) or an alternate enrolled device, you will need to append information to your password when you log in. Complete instructions are available in the Microsoft 365 Email and Calendar Alternate Device tutorial.