You can use the D100 hardware token to log in to any NetID-authenticated system that uses Duo 2-factor authentication, including HRMS, UR Financials (Workday) or VPN. Tokens are available for purchase from the UR Tech Store location in Rush Rhees Library.
Step 1
Enter your username and password on the system login page. For Duo Method, select passcode.
Step 2
On your D100 hardware token, press the button to generate a new passcode.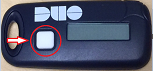 Step 3
For HRMS, re-enter your NetID. In the password field, type in your password immediately followed by a comma then the passcode on your hardware token. For example: password,1954249
For UR Financials (Workday), type the passcode in the passcode field.
For VPN, enter the passcode in the system's "Duo Method" field.
Step 4
Click the Sign In button to complete logging in to the system.
Log in using an alternative device/ method
If you would like to log in using an alternate method (push notification, text message or phone call) or an alternate enrolled device, you will need to append information to your password when you log in.