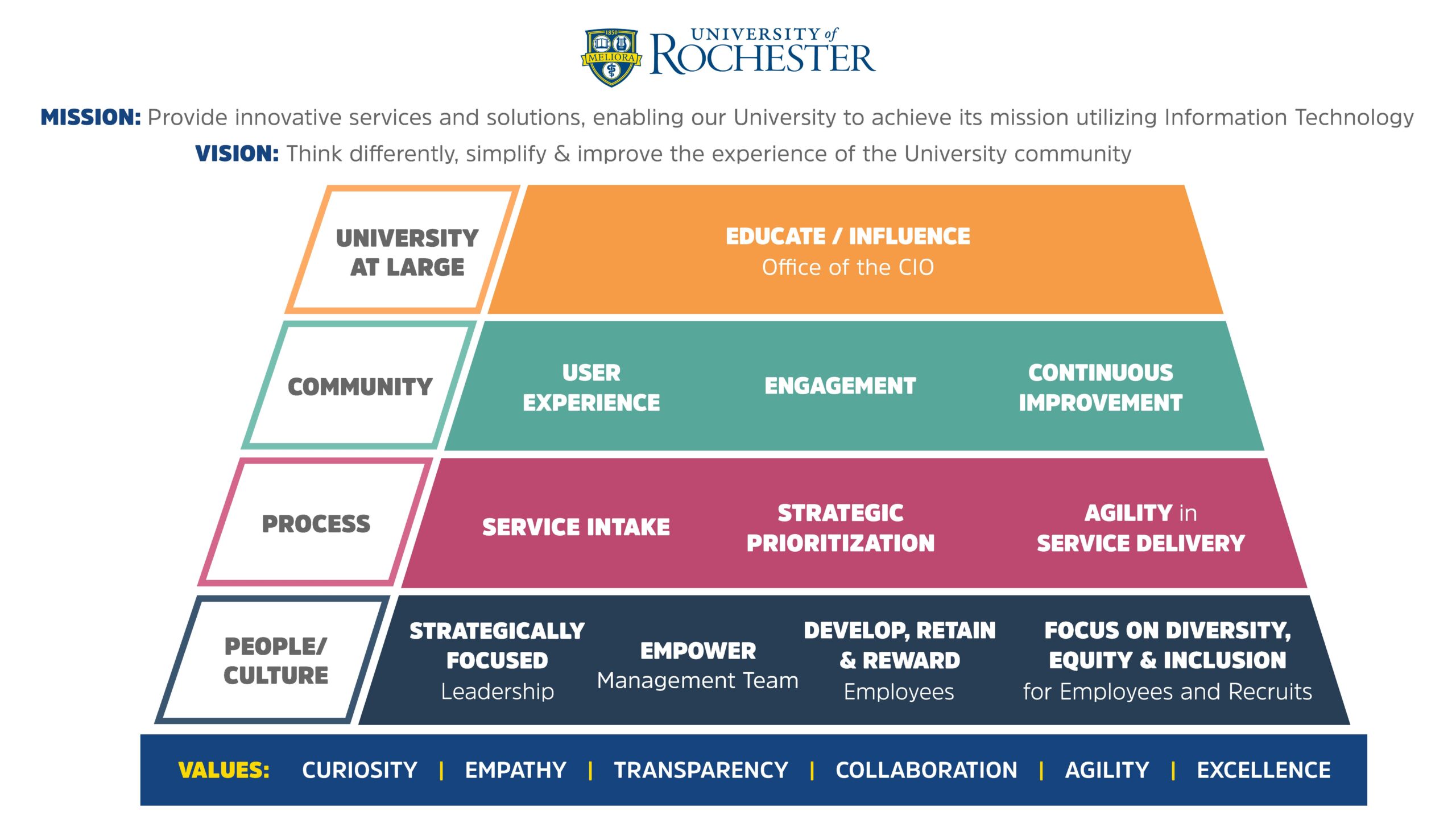 The University's mission is to Learn, Discover, Heal, Create – and Make the World Ever Better.
Embedded in that ideal are the values we share: equity, leadership, integrity, openness, respect and accountability.
As a technology organization, our purpose stems from the mission of the University. First and foremost, we focus on operational excellence in all we do, ensuring robust and secure systems and solutions 7×24, 365 days a year. And, as the speed of digitalization and technology change increases in pace, we constantly need to evolve, adapt, grow and be Ever Better ourselves.
Our vision statement aligns with the broader University strategy and we engage all members of the organization to ensure that everyone understands and internalizes the core values that we established for our organization: Curiosity, Empathy, Transparency, Collaboration, Agility & Excellence.  These values are key in supporting the University's mission and our own.
---
It aspires us to, think differently, simplify and & improve the experience
of the University community
---
Values:
| | |
| --- | --- |
| Curiosity | A desire to know.  To change the way we have done things, we must ask questions and be open to honest feedback and new perspectives. |
| Empathy | To listen, understand and share the feelings of others.  This starts with curiosity.  When we empathize, we are better able to relate to our community and assist them with their needs. |
| Transparency | Being honest and open. Honest about what can we offer, what is working, what isn't working, and what are the gaps. This builds trust. |
| Collaboration | Working with someone to produce or create. We want to be viewed as partners. Collaboration brings others into our conversations and make them part of the decision process. This cannot be achieved without curiosity, empathy, and transparency. |
| Agility | Ability and fortitude to embrace change. By embracing the values above, we find ourselves, at times, having to quickly move on from and change what we previously believed. To do this, we must foster a culture that can and does respond and adapt to what is understood and needed. Don't try to boil the ocean; be iterative in our delivery mindset. |
| Excellence | The quality of being excellent. At its core, it is something we will always pursue and never quite accomplish. As such, we should always relish in our successes, while continuing to wonder how our success can be, Ever Better. |
Key Objectives:
Each of the pathways contain thematic objectives that when focused on (putting values into actions and behaviors), will help us achieve and sustain our vision and mission.

People & Culture:

Serves as the base following the core values, because nothing happens unless the people and culture support and drive.

Process:

Process and structure support the work we are trying to do together with our Community.These areas of focus help us to improve the delivery experience for the community and our teams.

Community:

The essence of the strategy map, our mission and vision is all about the University community that we serve.We aspire to be true partners, understanding the business of those we serve, and being thought partners on the best services and solutions for them.  We actively engage our users and are empathetic to their needs from design to delivery; while looking for opportunities to make incremental enhancements.

University at Large:

Show the University, at large, through our actions that we truly think about and care about the community experience.
This strategy creates opportunities for us to shift the way we do things.  We know this doesn't happen overnight.  It is a journey.  We will be diligent, accountable, and we will accomplish our key objectives in the spirit of continuous improvement.  We will evaluate our progress from both a strategic and operational perspective and will make changes as needed (agility).
---
UR Valued
UR Valued is a homegrown program for diversity, inclusion, and professional development. Diversity and inclusion —in its broadest sense — means being open to understanding and appreciating differences in backgrounds, working styles, and experiences. Our "UR Valued" approach builds diversity and inclusion into our culture through professional development, team building, serving the community, and leveraging employee skills, talents, and passions.
Nationally recognized in a research bulletin published by the EDUCAUSE Center for Applied Research, this program has also been cited as a best practice by peers and regional community organizations.
---
Staff Leadership Group
Chartered in 2009, this group is actively engaged in the leadership hierarchy of the University IT organization to:
Identify and realize opportunities to improve operations
Develop processes and policies that advance our vision and core values
Advise and inform IT leadership regarding workplace issues that concern all staff members
Since its inception, this cross-functional group has provided a professional development opportunity for staff members and improved collaboration and employee engagement throughout the organization. A signature accomplishment is an orientation program that provides all new employees with consistent access to institutional resources and a "buddy" that helps them acclimate and get involved in the organization.
---
Mentoring Program
The mentoring program for the management team was implemented in 2010. Each year, managers are paired with a member of the senior leadership team — other than their immediate supervisor — and they meet monthly to work on mutually agreed-upon goals. The intent of the program is to further succession planning and provide hands-on training in working with different styles.