Zoom offers a variety of audio options to accompany your video and web conferences.
Integrated Computer Audio – Recommended option
University Zoom meetings are best experienced via integrated computer audio. Users can connect using a built-in computer mic, peripheral computer headset / mic, or webcam.
Integrated Toll-based Dial-in
University Zoom meetings have a long distance (U.S.) dial-in number available for participants who are unable to connect via integrated computer audio. Users are connected to the web / video conference and can hear other toll-based dial-in users and integrated computer audio users. Users dialing in to the toll-based dial-in number may incur charges for long distance dialing, depending on where they are calling from and their specific telephone service plan.
Standalone GlobalMeet Conference Bridge
University Zoom users who require a toll-free dial-in number to accompany their web/video conference can request an GlobalMeet Conference Bridge. NOTE: The GlobalMeet bridge is a standalone audio solution, and does not integrate with computer audio or other integrated audio options. All participants, including the host, must use the GlobalMeet bridge in order to ensure all participants can hear one another. This feature carries a cost of $0.015 per minute, per user dialed in. Visit our teleconferencing page for additional information.
Integrated Toll-free Dial-in (under review)
University is reviewing an integrated toll-free dial-in option to allow Zoom users to include a toll-free dial-in number for their meetings. The toll-free dial-in is joined with the integrated computer audio and toll-based dial-in users. NOTE: This feature is currently under review and is not yet available for University Zoom users.
Comparison of Available Audio Options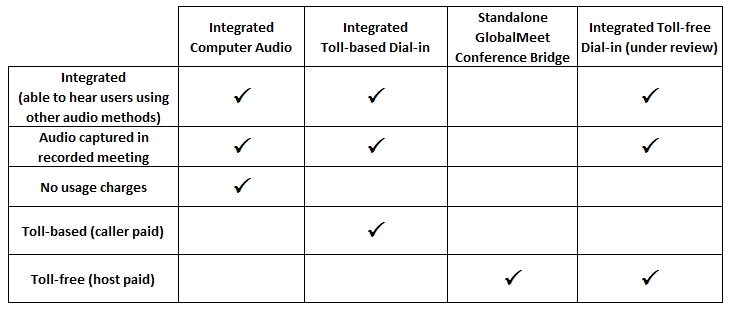 Help with Zoom Audio
View complete documentation, setup, testing, and troubleshooting information for Zoom audio options and settings.