Before you can use Zoom in your course, you will need to make it Available.
In the Control Panel, choose Customization
Choose Tool Availability
Scroll down to the bottom and click the boxes next to Zoom Meeting
Choose Submit from the top or bottom of the list

There are two ways to add Zoom into your course:
1. Navigation Link (left hand menu):
Using the + (plus) sign in the left hand menu, choose Tool Link.
From the list of available tools, choose Zoom Meeting.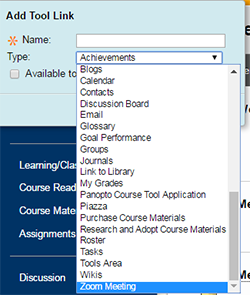 2. Content Link (within a content area):
Within your content area (folder), select Tools.
Choose More Tools, and then choose Zoom Meeting.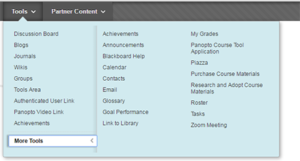 If there are multiple instructors teaching a course in Blackboard that need to be able to host Zoom sessions, the initial instructor will need to add the others as alternative hosts to the session.First you will need to log into the web interface for Zoom at http://zoom.us.
Click on Meetings. Then click on Previous Meetings.
You should see a list of meetings, which should include the meeting associated with your course.

Click on the link for the meeting associated with your course.
On the next screen, click Edit. Scroll down to the bottom and click Advanced Options.

Type in the email addresses of the other instructors that will need hosting capabilities in this course. Please make sure to use the email address associated with their Zoom and Blackboard accounts. Then click Save.
Note: If Join Before Host is enabled for this meeting session, anyone will be able to use the Zoom session without the HOST there, however there are some functions that only a HOST can perform (recording, breakout rooms). Join before host can be set by default at the individual meeting level.
This is done in the settings for the meeting available when you click on the meeting name. Then click Edit.

Currently persons with the roles of Teaching Assistant or Course Builder do not have access to Zoom sessions from the links within Blackboard.
If you have a TA or Course Builder that needs to have access, you can provide them with access through the associated session id. This is permanent and can be used outside of Blackboard for access.
To find your session id, you can log into Zoom at http://zoom.us. Click on Meetings. Then click on Previous Meetings. You should see a list of your meetings, including ones associated with your courses.

The meeting id is the 9 digit number to the right of the meeting topic. Provide this number to your TA or Course Builder and they can join from their Zoom desktop client, or from http://zoom.us (click "Join a meeting").
** PLEASE NOTE: This same process can be used to provide access to persons without Blackboard accounts (guest lecturers, interpreters, captionists).
If you are making a copy of a Blackboard course that contains Zoom links, please review the information located here to make sure that your new course has appropriate access.
Additional Information