University IT continues to migrate away from using NetID to log into University and Medical Center Applications. As part of this project, beginning January 5th, 2023, MyPath with require your Active Directory (AD) login. This change will not impact the way URMC affiliates log into MyPath.
Keep in mind, your AD Credentials are the same credentials you typically use to log into a Windows computer, access the University wireless network, and use for accessing enterprise services like Microsoft 365, Workday Student, and Workday Finance. If you do not know what your AD credentials are please visit MyIdentity.Rochester.edu.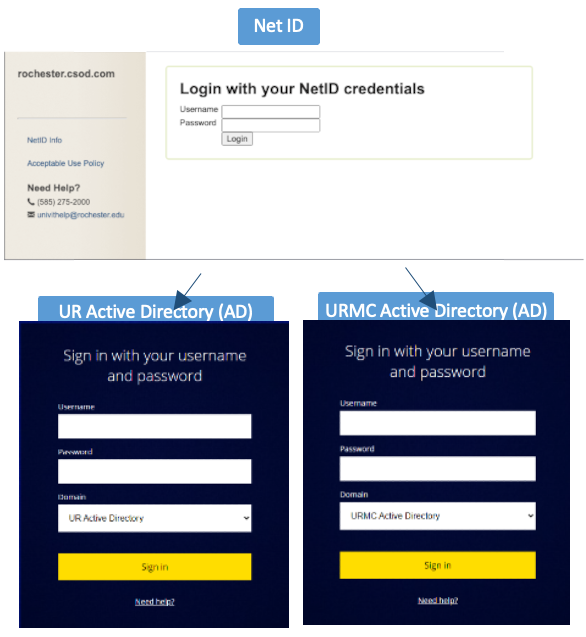 When logging in:
Login in with your Active Directory (AD) credentials.
*Same credentials used to log in to your computer.
Select the correct Domain in the drop-down. (UR Active Directory or URMC Active Directory)
UR Active Directory=Non-Medical Center
URMC Active Directory=Medical Center
Click "Sign in". (Duo two-factor authentication may be required if you are off campus*)
*If you are off-campus you will be prompted to use Duo two-factor authentication. Duo is required for Active Directory (AD) logins when not on the University network. If you have not already registered your Active Directory (AD) account in Duo please see the guidance posted here
If you have questions or concerns about this change please reach out to the University IT Help Desk (585) 275-2000 or ISD Help Desk (585) 275-3200.