Updated October 28, 2021 9:00 am
To simplify the end-user experience and increase consistency across University applications and services, the University is moving toward using a single authentication technology. Currently, faculty, staff, and students use either NetID credentials (e.g., HRMS) or Active Directory (AD) credentials (e.g., Wireless) to gain access to systems and applications. Over the next year, many applications and systems will begin to move away from NetID and will transition to AD as a means for authentication and authorization.
While most faculty, staff, and students already have the same (synched) username for their NetID and AD credentials, there are some that do not. For those who do not, you will be provided additional information on how to manage this change.
On 10/28/21, users accessing the following applications will begin to see changes to the landing pages. These applications will be transitioning from logging into NetID to Active Directory:
Workday Financial (UR Financial)
Workday Student (UR Student)
Amazon Business Prime
Student Administrative Support Services (SASS)
The Interlibrary Loan Service (ILLiad)
These are the only applications that will be impacted at this time. As other applications and systems are planned to be moved to AD, additional information will be provided at that time.
What to Expect:
If you are using existing bookmarks, you will now see the Workday Authentication Selection screen.
Make your choice from the left side and you will be taken to the new login screen.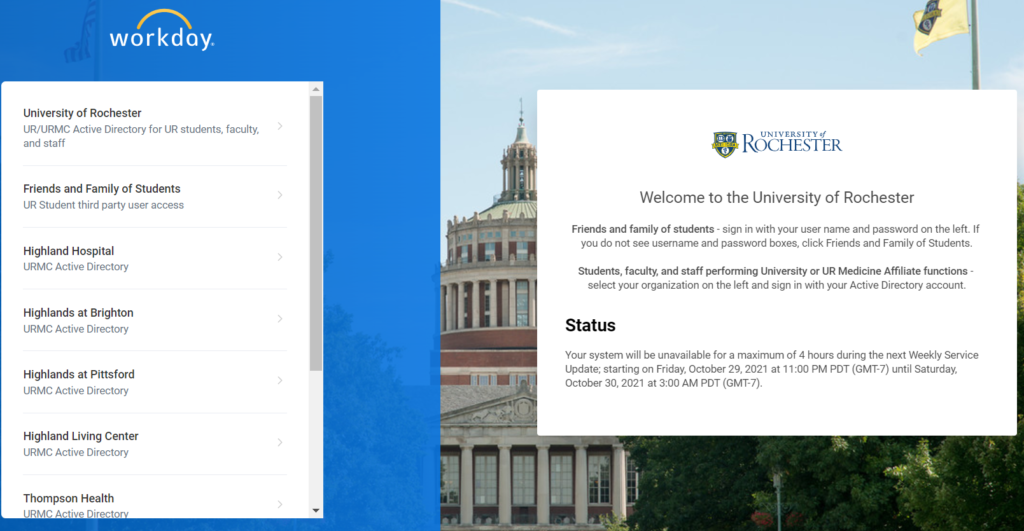 The new login screen will be the same as shown below for Active Directory:
Login in with your AD credentials – The same credentials used to login to your computer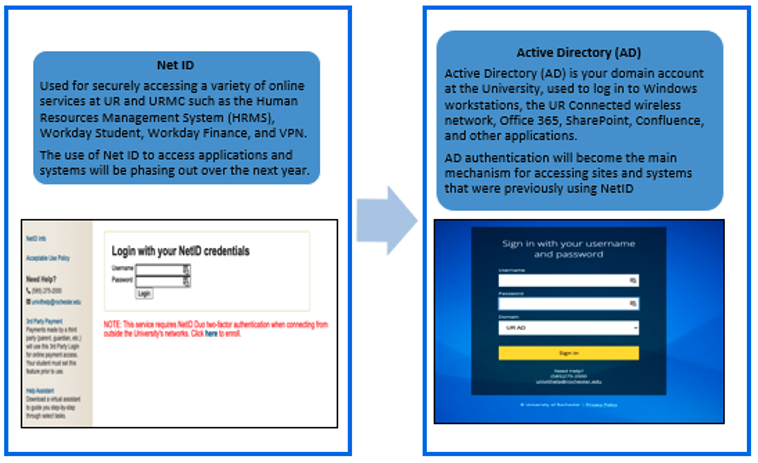 Select the correct Domain in the drop-down (UR AD or URMC AD)

UR Active Directory for University
URMC Active Directory for URMC and UR Medicine Affiliates
Click "Sign in"
Duo two-factor authentication may be requested (see below).
Note: If you are off-campus and not connected to VPN, you will be prompted to use Duo two-factor authentication. Duo is required for AD logins when not on the University network. If you have not already registered your Active Directory account in Duo please see the guidance posted at https://tech.rochester.edu/enroll-in-duo/.
Need Assistance?
If you have questions or concerns about this change please contact the University IT Help Desk (585) 275-2000.
If you have questions regarding login accounts, please contact the University IT Help Desk (585) 275-2000 or ISD (585) 275-3200.