Step 1
Purchase Yubikey from the UR Tech Store.
Step 2
To activate the key: Please contact the Help Desk and provide them with the serial # of the key (located on the back) with your request. The Help Desk will email you when activation is complete.
For NetID and UR accounts: Please contact University IT at UnivITHelp@rochester.edu
For URMC accounts: Please contact ISD Helpdesk at HelpDesk_ISD@URMC.Rochester.edu
Step 3
Adding a device can be done via the Duo console; 2 methods:
Go to the Citrix Workspace; scroll down and double click on Two Factor Enrollment.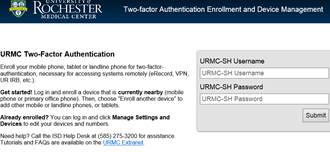 Step 4
After logging in with your credentials, you will see the following Duo prompt.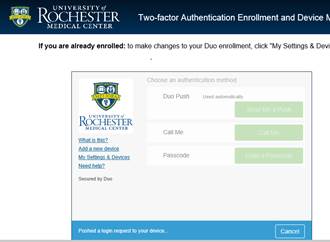 Step 5
Click on My Settings & Devices. You will get a Duo push; press accept.
Step 6
My Settings & Devices will open. Click + Add another device.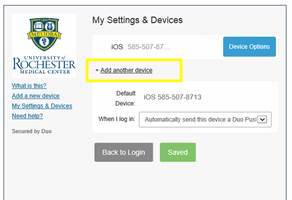 Step 7
Click the Security Key radio button. Follow the steps to enroll your key.
If you need to transfer an old YubiKey to a New User
If a person no longer is going to be using the Yubikey and would like to transfer it to another person then the transfer Yubikey form will need to be sent to them.
Need assistance?
For UR accounts: Please contact University IT at UnivITHelp@rochester.edu
For URMC accounts: Please contact ISD Helpdesk at HelpDesk_ISD@URMC.Rochester.edu
Additional University IT tutorials