If you selected Passcode when you enrolled your mobile phone, SMS text messages from Duo Security will be the default authentication method when you log in to
HRMS
. Follow the steps below to log in to HRMS with two-factor authentication.
Step 1
Go to the HRMS login page. Enter your NetID and password, then click the Sign In button.
Step 2
You will automatically receive a text message on your enrolled mobile phone that contains a numerical passcode.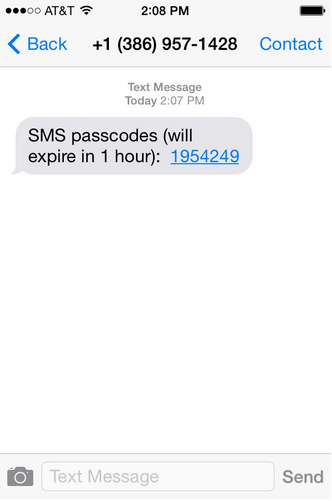 Step 3
On the web browser where you initiated logging in to HRMS, reenter your NetID. In the password field, type in your password immediately followed by a comma then the passcode you received in the text message (or the passcode generated by the hardware token). For example:
password,1954249
Step 4
Click the Sign In button, and you will be logged in to HRMS.
Log in using an alternate device or method
If you would like to log in to HRMS using an alternate method (phone call or text message) or an alternate enrolled device, you will need to append information to your password when you log in. Complete instructions are available in the HRMS Alternate Device tutorial