As you may have seen in @Rochester or on tech.rochester.edu, the University is moving toward using one authentication technology. NetID and Active Directory (AD) are the most commonly used credentials for authentication services. Over the next year, all applications are expected to migrate from NetID to Active Directory (AD) as the means for authentication.
Starting on Thursday, September 29th 2022, if you previously used your NetID credentials to gain access to WordPress, you will need to use your Active Directory (AD) credentials to log in going forward. Keep in mind that your AD Credentials are the same credentials you typically use to log in to a Windows computer, access the University wireless network, and for enterprise services like Microsoft 365, UR student, and UR Financials. If you do not know what your AD credentials are please visit myidentity.rochester.edu.
If you previously used a local account to login to WordPress, your authentication process should not change.
Logging In
When you go to your WordPress login page, it will appear slightly different than before: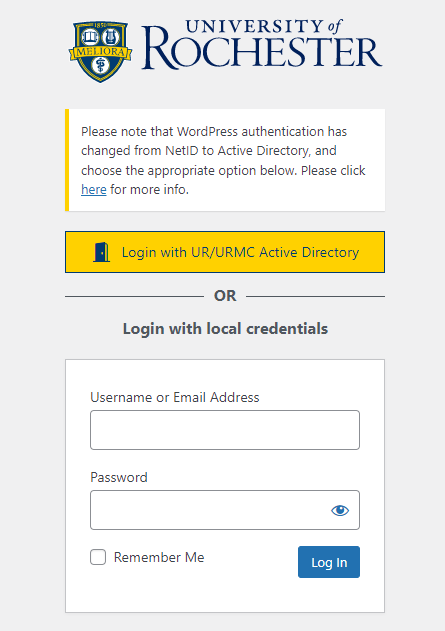 Instead of entering your credentials directly, you will need to click on "Login with UR/URMC Active Directory". This should bring you to the familiar UIDP login page: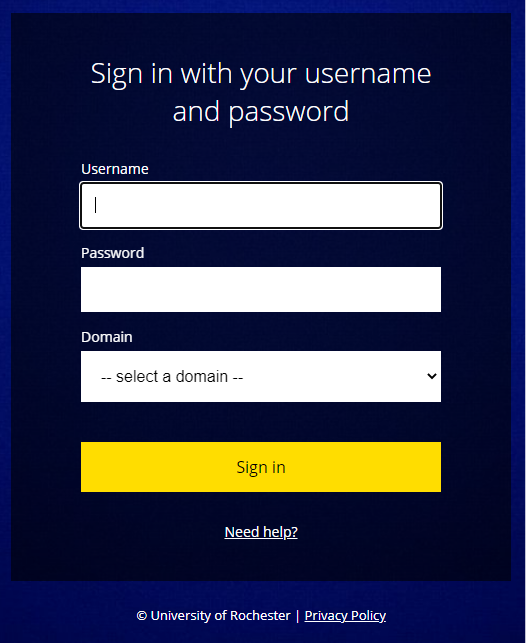 The new login screen will be the same as shown above for Active Directory
Log in with your Active Directory (AD) credentials. The same credentials are used to login into your computer.
Select the correct Domain in the drop-down:

UR Active Directory=Non-Medical Center faculty, staff, and students
URMC Active Directory=Medical Center and affiliates-faculty, staff, and students

Click Sign in.
If off campus, you will be prompted to use Duo two-factor authentication.
Logging Out
When logging out, you will click "Logout" from the menu in the upper right as normal, but you may need to fully close your browser in order to fully end your session.
Additional Information
Duo two-factor authentication is required for Active Directory (AD) logins when not on the University network. If you do not already have Duo for your Active Directory (AD) account, please see the guidance posted here.
We appreciate your flexibility as we work towards streamlining the authentication process for everyone.
If you have questions or concerns about this change please reach out to the University IT Help Desk (585) 275-2000 or ISD Help Desk (585) 275-3200.