The updated timeline and list of applications can be found here:
https://tech.rochester.edu/net-id-to-ad-migration/
In November 2021, University IT was able to successfully migrate the following applications from Net ID over to Active Directory (AD): Workday Financial, Workday Student, Amazon Business Prime, and Student Administrative Support Services.
In an effort to continue to simplify the end-user experience across UR and URMC, University IT will be migrating the remaining applications off of NetID over the next year in periodic waves with the first wave starting the week of April 3rd.
For the upcoming wave of migrations, you can expect to see some changes to your login page for the following applications:
University IT Subversion
BOOMI
BSI Systems
Gartner
Localist
Cority
Chematix
Salesforce
Flex Port (T2 Parking)
WebCRD/print.its.rochester.edu
MedSis (eduweb.urmc.rochester.edu server)
What you need to know:
The login pages for the above application(s) will change with the move from NetID to Active Directory (AD) authentication. (see below)
You will need to know your AD Credentials when accessing these applications. Keep in mind, your AD Credentials are the same credentials you typically use to log into a Windows computer, access the University wireless network, use for enterprise services like Microsoft 365, Workday Student, and Workday Finance. If you do not know what your AD credentials are please visit myidentity.Rochester.edu .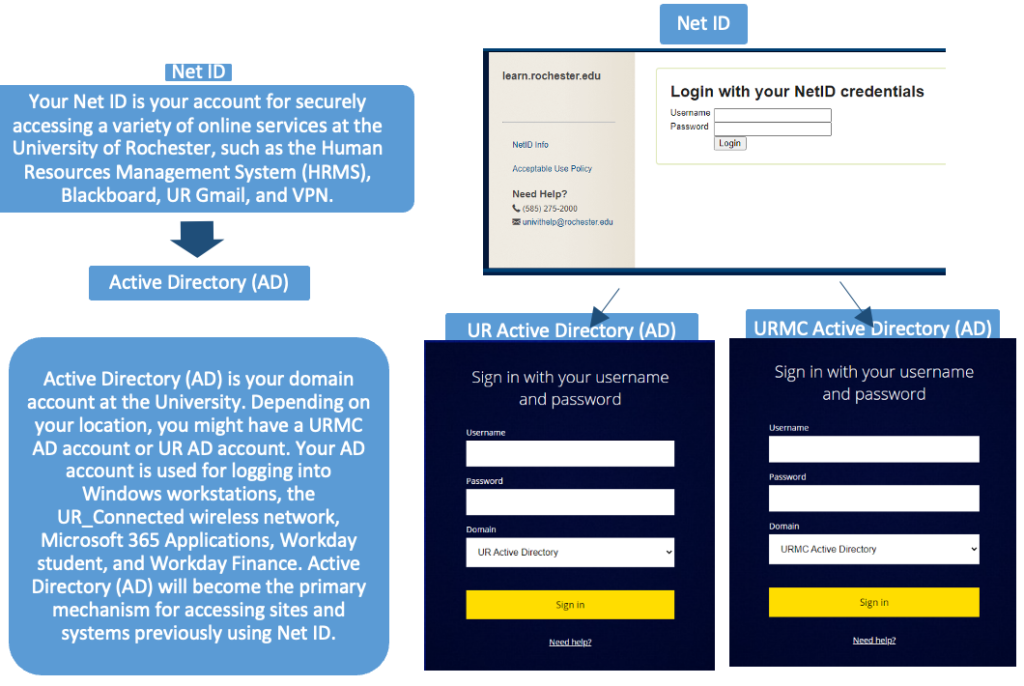 When logging in:
Login in with your Active Directory (AD) credentials.
  *Same credentials used to login to your computer.
Select the correct Domain in the drop-down. (UR Active Directory or URMC Active Directory)
UR Active Directory=Non-Medical Center
URMC Active Directory=Medical Center and affiliates
Click "Sign in".
Duo two-factor authentication may be requested. (see below)
If you are off-campus you will be prompted to use Duo two-factor authentication. Duo is required for Active Directory (AD) logins when not on the University network. If you have not already registered your Active Directory (AD) account in Duo please see the guidance posted here
If you have questions or concerns about this change please reach out to the University IT Help Desk (585) 275-2000 or ISD Help Desk (585) 275-3200.