Zoom has postponed the planned change to add the Waiting Room security feature to all Zoom accounts. Direction on security requirements for Zoom meetings will be provided in the near future.
Waiting Room and/or Meeting Passcode are strongly recommended as a best practice for all University, URMC and affiliate Zoom meeting hosts. Both allow you to manage who is allowed into the session and help prevent unexpected participants or potential "Zoombombers" from interrupting.
Either feature can turned on in your Zoom account settings through the online web portal at any time.
IMPORTANT:  If you enable Meeting Passcode, you must update your scheduled meetings and you must re-send the meeting invitations with the passcode information so your attendees are able to join.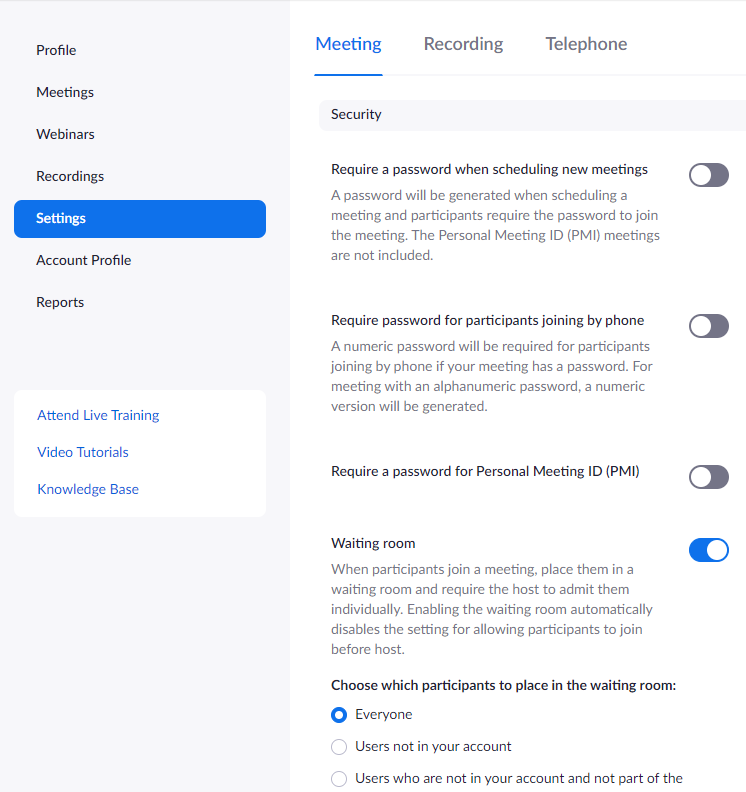 Visit our Securing Zoom Meetings page for additional recommendations for securing your Zoom meetings.
Medical Center and affiliate staff and faculty needing assistance should call the ISD Help Desk at (585) 275-3200; all others may contact the University IT Help Desk at (585) 275-2000 or univithelp@rochester.edu.